Enterprise survey led by Director Zhou Guanghong
2015-06-16
Author:管理员
Read Times:2151
On May 28, Director Zhou, Professor Zhang Wangang, Dr. Wang Wei and the office director Shao Shichang from National Center of Meat Quality and Safety Control went to visit MAANSHAN Bairui Food Co., Ltd. for communication. Zhang Sanping, the general manager of the company, gave them a welcome reception.
Director Zhou firstly went to visit the company's production workshop. The processing plant was designed by the Italian Parliament Company in accordance with EU

st

andards for construction, and it is currently one of most advanced fermentation meat products processing workshop in the domestic. The detailed pr

odu

ction process of the salami, traditional dry cured ham was introduced to Director Zhou. Some information on demand for technology and prod

uct market and other aspects of the introduction were also given by the deputy general manager of the enterprise and Mario who is a meat expert from Italy. Some relevant technical details in-depth have also been communicated and discussed.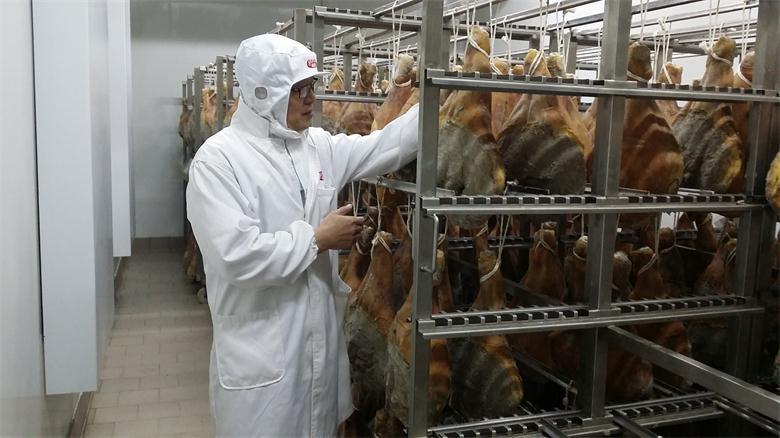 Director Zhou suggested to keep maintaining close strategic partnership with the enterprise and develop deep cooperation in the aspects of personnel training, students training, research innovation.
In addition, on April 3 to 4, Director Zhou also visited the project construction site of "The second phase of Huai'an sushi for food processing logistics center", listen to the report on current status and future imagines of this project by relevant person in charge from the Sushi group. The joint research and development of chilled meat processing, storage and transportation technology were field surveyed, the implementation effect of technology, existing problems, application cost and promotion space were also detailed analyzed. Moreover, communications and discussions for the next stage on technology improvement and promotion were carried out.